Never think, because you cannot easily write a letter, that it is better not to write at all. The most awkward note that can be imagined is better than none…

~Emily Post, 1922
I found this quote on A Month of Letters and it struck a chord.  I sometimes delay writing letters because I feel the need to create The Perfect Letter.  What is The Perfect Letter?  Who knows?!  Despite aspiring to it, I can't even define what it is I have this notion I "ought" to be creating.  This is why the the idea of an awkward letter being an appreciated gesture appeals to me.  And to take Emily's thought a step farther, I'd say that the perfection of a letter is likely best determined by the recipient rather than the sender.  Therefore,  any letter has the potential to be perfect…except for the one that is never sent.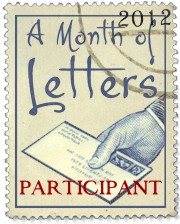 To encourage myself not to put writing on hold until the days I feel capable of perfection (they are so few and far between), I've signed up for A Month of Letters, which invites participants to write a letter a day for the month of February.  Having done–and loved–a 30 Day Challenge last October (the end result of which was the beginning of this very blog you are reading), I'm looking forward to success and enjoyment with this month-long letter writing challenge.  Intrigued?  Take a look at the details and join the fun if it appeals to you!